Game Discription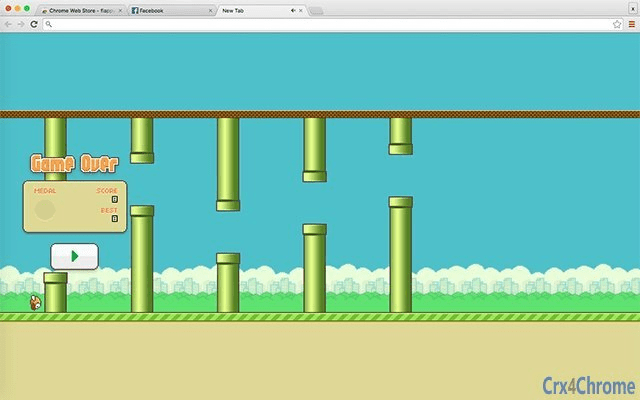 Flappy Bird Classic, the iconic mobile game that took the world by storm, is a testament to the addictive simplicity of gaming. In this article, we delve into the details of Flappy Bird Classic, covering its humble beginnings, game controls, how to play, essential tips and tricks, the game's enigmatic developer, available platforms, and even how to play it unblocked.
Developed by Dong Nguyen, Flappy Bird Classic was initially released in 2013. It quickly gained immense popularity for its minimalist design and frustratingly challenging gameplay. Despite its success, the game was removed from app stores by its creator in 2014, adding an air of mystery to its legacy.
Game Controls
Flappy Bird Classic is controls are as straightforward as they come, contributing to the game's universal appeal:
Tap: To keep your bird airborne, tap the screen. The longer you tap, the higher the bird will fly. Precise timing is crucial to navigate through the pipes.
How to Play Flappy Bird Classic?
The objective of the game is deceptively simple: guide your flappy bird through a series of gaps in green pipes without crashing. Here's a step-by-step guide on how to play:
Launch the Game: Open the game on your device.
Start Flying: Tap the screen to make your bird flap its wings and ascend. Release to descend.
Navigate the Pipes: Maneuver your bird through the gaps in the pipes. It requires precise timing and a steady hand to avoid collisions.
Keep Going: The game continues until your bird crashes into a pipe or the ground. Your goal is to achieve the highest score possible by passing through as many pipes as you can.
Challenge Friends: Compete with friends by comparing scores. Bragging rights are at stake!
Tips and Tricks Flappy Bird Classic
The game is simplicity belies its difficulty. To help you navigate the game's challenges, consider these tips and tricks:
Practice Patience: Flappy Bird Classic rewards patience. Take your time, and don't rush your taps. Find a rhythm that works for you.
Stay Calm: It's easy to get frustrated, but maintaining a calm demeanor is essential. Frustration can lead to mistimed taps and more crashes.
Study the Pipes: Pay close attention to the pipe patterns. They follow a consistent rhythm that you can learn to anticipate with practice.
Challenge Yourself: Set personal goals for improvement. Aim to beat your own high score, and you'll find yourself naturally getting better.
The Mysterious Developer
Dong Nguyen, the enigmatic developer behind Flappy Bird Classic, preferred to stay out of the spotlight. Despite the game's incredible success, he chose to remove it from app stores, adding an air of mystery to his persona.
Flappy Bird Classic, the iconic and addictive mobile game that took the world by storm, was the brainchild of the reclusive game developer, Dong Nguyen. Dong Nguyen's journey into the world of mobile game development began with a simple idea – to create a game that was easy to understand but incredibly challenging to master.
Dong Nguyen's minimalist approach to game design is evident in Flappy Bird Classic. The game's deceptively simple graphics and one-tap controls belie the difficulty that players face as they navigate a small bird through a series of green pipes. This uncomplicated yet challenging gameplay became the hallmark of Flappy Bird Classic's success.
Despite the game's immense popularity, Dong Nguyen chose to maintain a low profile. He was known for his reluctance to engage with the media and gaming community, adding an air of mystique to both himself and the game. This mystique only added to the intrigue surrounding Flappy Bird Classic.
Available Platforms
Flappy Bird Classic was initially available on both iOS and Android platforms. However, since its removal from app stores, accessing the game on official platforms can be challenging.
How to Play Unblocked
Given the game's removal from app stores, you can still play Flappy Bird Classic unblocked through a web browser. Several websites offer HTML5 versions of the game that you can enjoy on your computer or mobile device.
Conclusion
Flappy Bird Classic's enduring popularity and challenging gameplay have solidified its place in mobile gaming history. Dong Nguyen's creation, while simple, managed to captivate players worldwide. Whether you're chasing high scores or reminiscing about the golden era of mobile gaming, Flappy Bird Classic remains a classic and timeless experience.