Game Description: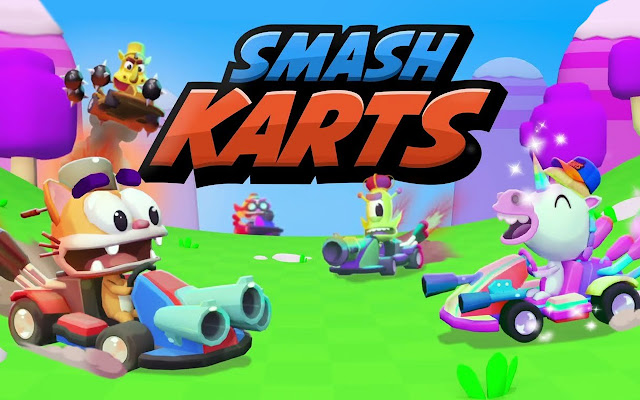 Smash Karts is a multiplayer online racing game that combines high-speed kart racing with intense combat elements. Players participate in fast-paced races across various tracks, using power-ups and weapons to outmaneuver opponents and secure victory. The game's dynamic and action-packed gameplay offers an exciting and competitive experience.
Game Controls
Mastering the game's controls is essential for success in Smash Karts. Here are the basic controls for the game:
WASD or Arrow Keys: Use these keys to steer your kart.
Spacebar: Press the spacebar to use power-ups.
Shift: Activate a speed boost with the shift key.
R: Reset your kart if you get stuck or flipped over.
Tab: Check the leaderboard to see how you're performing compared to other players.
How to Play Smash Karts?
Playing Smash Karts is straightforward, but becoming a pro requires skill and strategy:
Choose Your Kart: At the beginning of each match, select your preferred kart. Each kart has its unique stats, so choose one that suits your racing style.
Race to Win: Compete against other players in fast-paced races filled with obstacles and twists. Use your driving skills to outmaneuver opponents.
Power-Up Madness: Smash Karts is all about the power-ups. Collect them during the race and use them strategically. From rockets to shields, these items can turn the tide in your favor.
Avoid Hazards: Navigate through challenging tracks, avoiding pitfalls, traps, and other hazards. Staying on the track is crucial for victory.
Stay Ahead: Keep an eye on the leaderboard to gauge your performance and adjust your strategy accordingly. It's not just about speed; it's about staying ahead of the competition.
Customization: Unlock and customize your kart with various skins, wheels, and other cosmetic items to make it unique.
Tips and Tricks
To improve your Smash Karts skills, consider these tips and tricks:
Master Power-Up Timing: Learn when to use your power-ups for maximum impact. A well-timed shield can save you from rockets, while a speed boost at the right moment can secure victory.
Practice Makes Perfect: Don't expect to win every race right away. Practice is key to improving your racing skills and understanding the game's mechanics.
Track Knowledge: Get familiar with the tracks. Knowing where obstacles are and the best racing lines can give you a significant advantage.
Team Up: Smash Karts offers team-based modes. Coordinate with your teammates to dominate the competition.
Game Developer
Smash Karts is developed by Bad Yolk Games, a game development studio known for creating innovative and entertaining titles. Their commitment to delivering fun and engaging gameplay experiences is evident in Smash Karts.
Game Platforms
Smash Karts is available on various gaming platforms, including:
PC: You can play Smash Karts on Windows and macOS via platforms like Steam.
Console: Keep an eye out for potential console releases on platforms like PlayStation, Xbox, or Nintendo Switch in the future.
Mobile: Smash Karts is also available on mobile devices, making it accessible to players on both iOS and Android platforms.
Conclusion
Smash Karts offers a thrilling and fast-paced kart racing experience that combines strategy with speed. With engaging gameplay, a variety of power-ups, and a fun aesthetic, it's a game that can keep you entertained for hours. So, gather your friends, hop into your karts, and get ready for some high-octane racing action!
In conclusion, Smash Karts offers an exhilarating and entertaining gaming experience that seamlessly blends elements of kart racing and battle royale genres. With its fast-paced gameplay, colorful visuals, and a wide array of power-ups and weapons, the game successfully captures the essence of chaotic and competitive fun. Its accessibility and cross-platform compatibility make it easy for players to jump in and enjoy the action with friends and players from around the world.
The constant updates and additions to Smash Karts have kept the game fresh and engaging, ensuring that players have plenty of reasons to return to the track. The sense of progression and customization options also add depth to the gameplay, allowing players to personalize their experience.