Game Description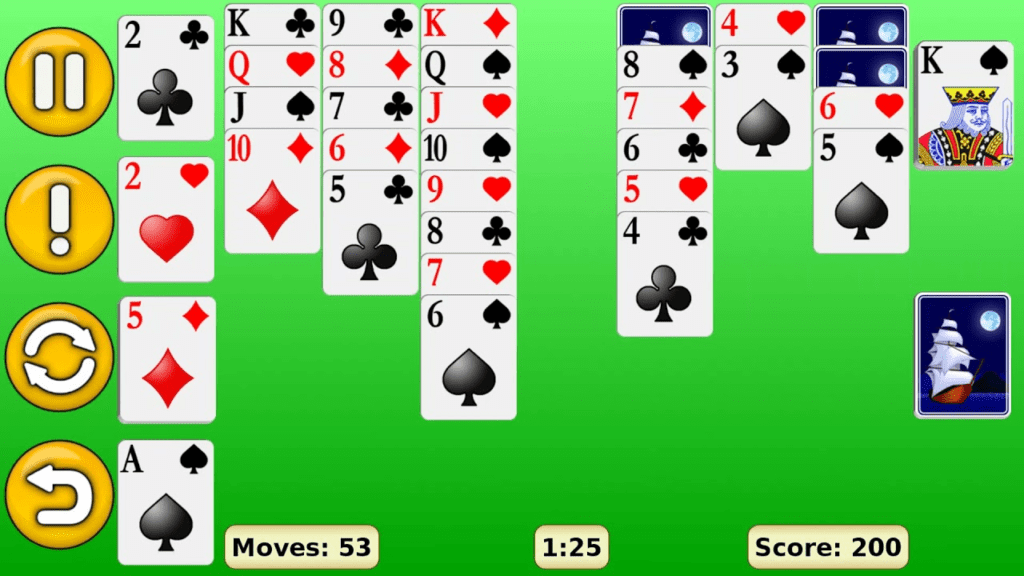 Google Solitaire is a digital adaptation of the traditional Klondike Solitaire card game. The objective is to build four foundation piles in ascending order, starting with Ace and ending with King, for each of the four suits (hearts, diamonds, clubs, and spades). You achieve this by arranging cards in tableau columns in descending order while alternating between red and black suits.
Game Controls
Click and Drag: To move cards, click on a card, hold the mouse button, and drag it to the desired location.
Auto-Move: Google Solitaire often has an auto-move feature that can be enabled to automatically move cards to their correct positions when possible.
Double Click: Double-clicking on an Ace or a valid card in the tableau automatically moves it to the foundation if applicable.
Undo: If you make a mistake, you can usually undo your last move by clicking the "Undo" button.
Deal: To deal a new row of cards from the stockpile, click the "Deal" button.
How to Play Google Solitaire?
Setup: The game starts with a shuffled deck of 52 cards dealt into seven tableau columns. The first column contains one card, the second two cards, and so on. The top card in each tableau column is face-up, while the rest are face-down.
Building Columns: You can move cards within the tableau columns to create descending sequences of alternating colors (e.g., a black 7 can be placed on a red 8). You can move sequences of cards as long as they are in descending order and follow alternating colors.
Foundations: Your goal is to build the four foundation piles from Ace to King, one for each suit. Start with an Ace and continue by adding cards of the same suit in ascending order.
Stockpile: When there are no more moves to make in the tableau, click the stockpile to deal one card at a time. You can go through the stockpile as many times as needed.
Winning: The game is won when all cards are successfully moved to the foundation piles in ascending order, separated by suit.
Tips and Tricks
Prioritize uncovering face-down cards in tableau columns to access more moves.
Try to create empty tableau columns as soon as possible; they act as additional maneuvering space.
Plan your moves carefully, especially when it comes to moving cards between tableau columns.
Be patient and avoid using the undo feature excessively, as it may hinder your progress.
Game Developer
Google Solitaire is developed by Google, the multinational technology company known for its search engine, software, and various other digital services.
Game Platforms
As of my last knowledge update in September 2021, Google Solitaire was available as a web-based game that you could play directly from your internet browser on various platforms, including iOS and Android devices. It didn't require downloading an app; you could simply search "Solitaire" on Google, and the game would appear as one of the search results, accessible on both mobile and desktop browsers.
However, please note that the availability and features of online games can change over time. Google might have made updates or changes to its solitaire game since then, or they may have developed dedicated apps for iOS and Android. I recommend checking the respective app stores (Apple App Store for iOS and Google Play Store for Android) for the most up-to-date information on Google Solitaire and its availability on these platforms as of your current date in September 2023.
How to Play Unblocked
To play Google Solitaire unblocked, simply go to the Google Search website and search for "Solitaire." You should see the Solitaire card game as one of the search results. Click on it to start playing. Google Solitaire is typically not restricted, so you can enjoy the game without any limitations directly in your web browser.
Google Solitaire offers a convenient way to enjoy a classic card game online, making it accessible to players across the globe. Whether you're a casual gamer or a Solitaire enthusiast, it's a great way to unwind and challenge yourself while improving your card-playing skills. So, give it a try and enjoy a game or two of Google Solitaire!
Conclusion
Google Solitaire is a simple yet entertaining card game that provides users with a fun way to pass the time. With its easy-to-use interface and accessibility across various devices, it has become a popular choice for people looking to relax and unwind. The game's classic rules and familiar gameplay make it accessible to players of all ages and skill levels, while its integration into the Google search engine adds convenience for those seeking a quick gaming fix. Whether you're a solitaire enthusiast or just looking for a brief diversion, Google Solitaire offers a delightful experience that continues to captivate players worldwide. So, the next time you have a few spare moments and want to indulge in a game of solitaire, you can confidently turn to Google Solitaire for an enjoyable and timeless experience.