Game Description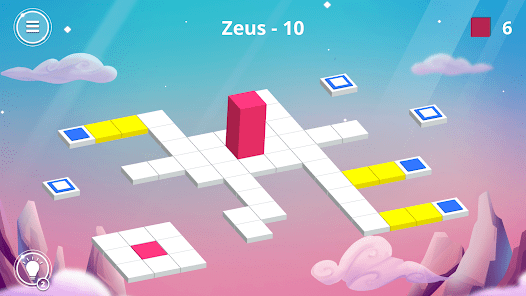 Bloxorz presents players with a series of rectangular blocks, each with its own set of challenges and obstacles. The goal is to maneuver a block with specific dimensions through these levels and guide it to the target hole. Sounds simple, right? Well, think again. Bloxorz features an array of puzzles that require logical thinking, precision, and a dash of creativity to conquer.
Game Controls
The controls in Bloxorz are straightforward, allowing players to focus on solving puzzles without unnecessary complexity:
Arrow Keys: Use the arrow keys on your keyboard or on-screen controls to move the block in four directions: up, down, left, and right.
How to Play Bloxorz?
Playing Bloxorz involves the following steps:
Starting the Game: Launch Bloxorz and select a level to begin your puzzle-solving journey. Levels vary in difficulty, from relatively simple to mind-boggling challenges.
Maneuver the Block: Use the arrow keys or on-screen controls to move the block strategically across the grid.
Avoid Falling: The block must stay on the grid at all times. If it falls off, you'll need to restart the level.
Activate Switches: Some levels feature switches that open gates or bridges. Activate them by moving the block onto them.
Reach the Hole: Guide the block to the target hole. Be careful not to let it fall into space or end up in a position where it cannot be moved.
Complete the Level: Successfully guiding the block into the target hole completes the level and unlocks the next challenge.
Challenge Progression: As you progress through the game, levels become increasingly complex, requiring more strategic thinking and precision.
Tips and Tricks
Mastering Bloxorz's puzzles can be a rewarding experience with the following tips:
Plan Ahead: Think before you move. Visualize your moves in advance to avoid getting stuck.
Edge Strategy: Start by positioning the block near an edge to create space for maneuvering.
Use Switches Wisely: Be mindful of how switches affect the level and use them strategically.
Restart if Stuck: Don't hesitate to restart a level if you find yourself in an unsolvable position.
Patience is Key: Some levels may take multiple attempts to solve. Stay patient and persistent.
Game Developer
Bloxorz is developed by Damien Clarke, a talented game developer known for creating engaging and challenging puzzle games. Explore more of his creations on various gaming platforms.
Game developers are the architects of virtual worlds, responsible for every aspect of a game's creation, from its initial concept to the final product. Their roles can be broadly categorized into several key areas:
Game Design: Game designers are the visionaries behind the gameplay, mechanics, and overall structure of a game. They define the rules, objectives, and the player's experience.
Programming: Game programmers are the technical wizards who bring the designer's vision to life. They write the code that powers the game, from physics simulations to user interfaces.
Art and Animation: Artists and animators create the visual elements of a game, including character designs, environments, textures, and animations. Their work brings the game world to life.
Sound Design: Sound designers and composers craft the audio experience, including music, sound effects, and voiceovers. They enhance immersion and emotion within the game.
Quality Assurance (QA): QA testers play a critical role in identifying and reporting bugs and ensuring the game functions smoothly before release.
Project Management: Project managers oversee the development process, ensuring that timelines, budgets, and resources are managed efficiently.
Game Platforms
Bloxorz is available on multiple gaming platforms, including online web browsers and mobile devices. You can enjoy Bloxorz in your web browser on gaming websites or download it as a mobile app on both iOS and Android devices.
Playing Unblocked
If you want to play Bloxorz unblocked, follow these steps:
Use a VPN: Utilize a Virtual Private Network (VPN) to access the game even if it's blocked on your network or location.
Play on Unblocked Sites: Look for gaming websites or portals that offer Bloxorz and other unblocked games. Many educational institutions and workplaces block access to gaming sites, so finding a dedicated unblocked site can be a solution.
Conclusion
Bloxorz is a puzzle game that offers players a stimulating mental challenge as they navigate blocks through increasingly complex levels. With intuitive controls and a range of mind-bending puzzles, it's a perfect choice for those seeking to engage their cognitive skills. Available on both desktop browsers and mobile devices, Bloxorz ensures accessibility for a wide range of players. Whether you're a fan of brain-teasers or just looking for a captivating gaming experience, Bloxorz invites you to embark on a puzzling adventure that will put your strategic thinking to the test.