Game Description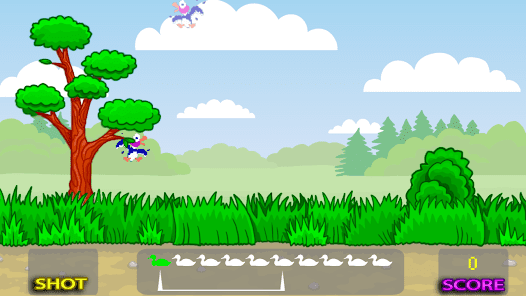 Duck Hunt takes players to the great outdoors, where they step into the role of a hunter armed with a trusty shotgun. Your mission is to take down flying ducks as they appear on the screen. Test your reflexes, aim with precision, and see how many ducks you can shoot down in each round.
Game Controls
Mastering the controls is essential to becoming a successful duck hunter:
Mouse (Desktop) or Touchscreen (Mobile): Aim your weapon by moving the cursor (on desktop) or dragging your finger (on mobile) and click or tap to fire.
How to Play Duck Hunt?
Playing the game is straightforward:
Game Start: Launch Duck Hunt and select your preferred game mode.
Ready, Aim, Fire: Wait for the ducks to appear on the screen and aim your shotgun using the mouse (on desktop) or touchscreen (on mobile).
Take the Shot: Click your mouse (on desktop) or tap the screen (on mobile) to fire. Try to hit the ducks in flight.
Duck Retrieval: If you successfully hit a duck, it falls to the ground. Your trusty dog companion will retrieve it.
Round Completion: Continue shooting ducks until you've reached the round's objective or until you've missed too many shots.
Accuracy Counts: Your score is based on the number of ducks you hit. Aim for a high score!
Tips and Tricks
To excel in the game, consider these helpful tips:
Aim Ahead: Anticipate the path of the ducks and aim slightly ahead of their flight to score hits.
Don't Miss Shots: You have a limited number of shots per round, so make them count. Be patient and precise.
Varied Targets: Ducks may appear at different heights and speeds. Adjust your aim accordingly.
Bonus Rounds: Some versions of Duck Hunt feature bonus rounds with more challenging targets. Stay sharp!
Practice: Like any skill, practice makes perfect. Keep playing to improve your accuracy.
Game Developer
The game was developed and published by Nintendo, a renowned video game company with a rich history of producing iconic and beloved games. It was first released as a part of the "Duck Hunt" package for the Nintendo Entertainment System (NES) in 1984.
Game Platforms
Duck Hunt was originally designed for the Nintendo Entertainment System (NES) and played using a light gun accessory. However, it has since been adapted for various platforms, including web browsers, making it accessible to a wider audience.
Playing Unblocked
To play Duck Hunt unblocked, you can employ the following strategies:
Web Emulators: Utilize web-based NES emulators that allow you to play Duck Hunt directly in your web browser. These emulators recreate the NES gaming experience, including the game.
Unblocked Gaming Sites: Explore gaming websites or portals that offer unblocked versions of classic games like Duck Hunt. These websites are designed to bypass restrictions in educational or workplace settings.
Mobile Apps: While Duck Hunt may not be available as an official mobile app, there are alternative shooting games available on both iOS and Android that offer similar gameplay experiences.
Availability on iOS and Android
As of my last knowledge update in September 2021, the game was not officially available as a standalone app on iOS or Android platforms. However, there were similar shooting games and emulators available that captured the spirit of Duck Hunt. To check the current availability of Duck Hunt or similar games on iOS and Android, I recommend visiting the respective app stores (Apple App Store for iOS and Google Play Store for Android) and conducting a search for shooting or hunting games.
Conclusion
Duck Hunt remains a timeless classic that has entertained players for decades with its simple yet challenging gameplay. Whether you're a nostalgic fan or a newcomer to the game, Duck Hunt offers a fun and addictive experience of marksmanship and reflexes.
While originally designed for the NES, Duck Hunt has found new life on web platforms, allowing players to enjoy it in their web browsers. And for those seeking to play unblocked versions, web emulators and gaming websites come to the rescue.
So, grab your virtual shotgun, take aim, and see how many ducks you can shoot down in this enduring classic. It's time to embrace the thrill of Duck Hunt!