Game Description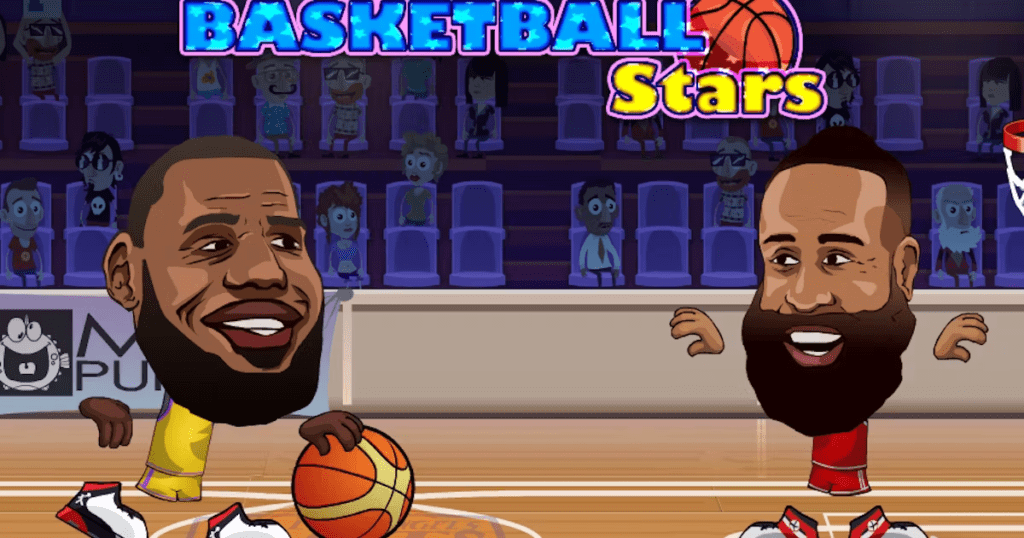 Basketball Stars delivers fast-paced, head-to-head basketball action in a stunning 3D environment. Choose your player, customize your appearance, and take on opponents in intense matches. Show off your dribbling skills, make incredible shots, and outmaneuver your rivals to become the ultimate basketball star.
Game Controls
Mastering the controls is crucial for victory on the court:
Touchscreen (Mobile): On mobile devices, swipe to move your player and aim your shots. Tap the shoot button to take your shot.
Mouse and Keyboard (Desktop): On desktop computers, use the arrow keys to move and the spacebar to shoot.
How to Play Basketball Stars?
Playing Basketball Stars is a slam dunk with these steps:
Game Start: Launch Basketball Stars and select a game mode, such as "One-on-One" or "Shootout."
Customize Your Player: Personalize your player's appearance, including their outfits and accessories.
Compete in Matches: Engage in intense one-on-one basketball matches against players from around the world or challenge your friends.
Scoring: Score points by making baskets from various spots on the court. Make precise shots to outscore your opponent.
Defensive Skills: Defend against your opponent's shots and steal the ball to gain the upper hand.
Special Moves: Unlock and use special moves unique to your player to surprise and outmaneuver your rivals.
Tips and Tricks
To become a basketball star in the game, consider these valuable tips:
Practice Dribbling: Master dribbling to control the ball effectively and create scoring opportunities.
Defensive Tactics: Develop your defensive skills, including blocking shots and stealing the ball.
Special Moves: Learn when and how to use your player's special moves for maximum impact.
Shot Timing: Timing is key; release your shots at the right moment for higher accuracy.
Customization: Customize your player's appearance to stand out on the court.
Game Developer
Basketball Stars is developed by Miniclip, a well-known game developer with a reputation for creating engaging and popular multiplayer games across various genres. Miniclip has a history of delivering quality gaming experiences enjoyed by millions of players.
Game Platforms
Basketball Stars is available on various gaming platforms, ensuring accessibility for a wide range of players:
Web Browsers: You can play Basketball Stars directly in your web browser on gaming websites.
iOS: Basketball Stars is available as a mobile app on iOS devices, allowing you to enjoy the game on your iPhone or iPad.
Android: Android users can find Basketball Stars on the Google Play Store and install it on their smartphones and tablets.
Playing Unblocked
To play Basketball Stars unblocked, here are some strategies:
Official App: If you're in an environment with restricted access to gaming websites, consider downloading the official app for iOS or Android. These apps are typically not restricted by network filters.
Use a VPN: Utilize a Virtual Private Network (VPN) to bypass network restrictions and access the game.
Unblocked Gaming Sites: Explore gaming websites or portals that offer unblocked versions of games like Basketball Stars. These websites cater to users seeking to bypass restrictions in educational or workplace settings.
Conclusion
Basketball Stars offers an exhilarating and competitive basketball experience that allows players to showcase their skills on the virtual court. With customizable players, intense one-on-one matchups, and a variety of special moves, it captures the essence of the sport and delivers thrilling basketball action.
Whether you're a basketball enthusiast or simply seeking a dynamic multiplayer gaming experience, Basketball Stars invites you to dribble, shoot, and outmaneuver your opponents. You can enjoy it on various platforms, including iOS and Android devices, and there are strategies to play it unblocked, ensuring that you can immerse yourself in the excitement of Basketball Stars regardless of network or location restrictions. So, step onto the court, make those shots, and aim for victory in this thrilling basketball showdown!