Game Description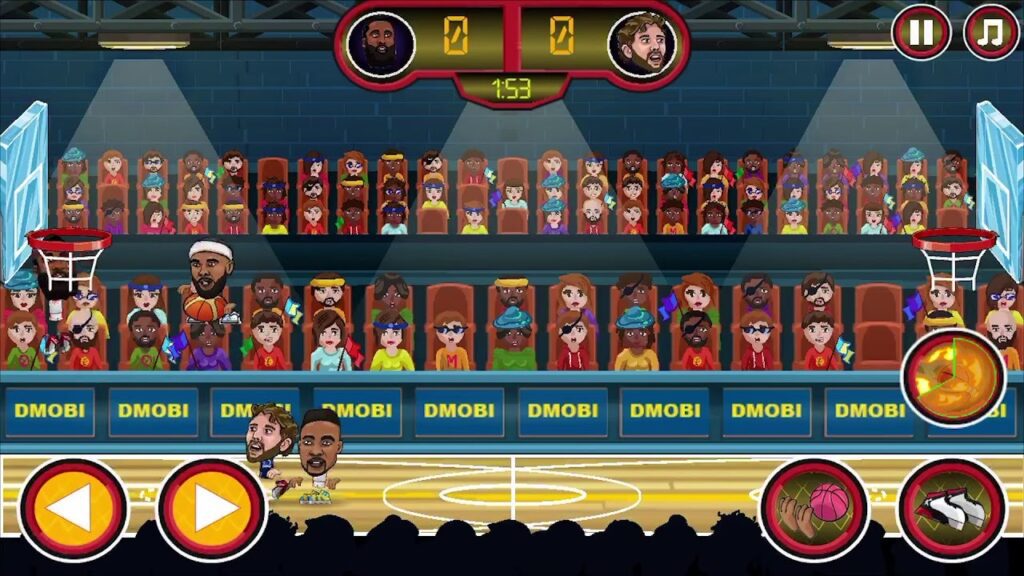 Basketball Legends brings the excitement of basketball to your fingertips. Play as famous basketball icons, both past and present, in thrilling one-on-one or two-on-two matches. Score incredible shots, execute dazzling moves, and challenge your opponents in intense basketball showdowns.
Game Controls
Mastering the controls is crucial to becoming a legend on the basketball court:
Arrow Keys (or WASD): Use these keys to move your player.
X (or K): Shoot and dunk.
Z (or L): Pass or steal.
Player Swap: In two-player mode, you can switch between players using the "M" key.
How to Play Basketball Legends?
Playing Basketball Legends is a slam dunk with these steps:
Select Your Mode: Start the game and choose between the "Tournament" or "Random Match" modes.
Choose Your Player: Pick your favorite basketball legend from the roster of iconic players.
Compete in Matches: Engage in exciting one-on-one or two-on-two basketball matches against AI opponents or friends.
Scoring: Score points by making baskets from various spots on the court. The first team to reach a set number of points wins the match.
Special Moves: Each player has unique special moves and abilities. Learn how to use them to gain an advantage.
Win the Tournament: In tournament mode, aim to defeat all opponents and become the Basketball Legends champion.
Tips and Tricks
To dominate on the virtual basketball court, consider these tips:
Know Your Player: Familiarize yourself with your chosen player's strengths and special moves.
Defense Matters: Don't focus solely on offense; strong defense can win games.
Teamwork: In two-player mode, communicate and coordinate with your teammate for effective plays.
Use Special Moves: Experiment with your player's special moves to surprise opponents.
Practice Makes Perfect: Spend time practicing your shooting and dribbling skills.
Game Developer
Basketball Legends is developed by MadPuffers, a game development studio known for creating engaging and entertaining sports games. Their portfolio includes a variety of multiplayer sports titles that capture the excitement of the real thing.
Game Platforms
Basketball Legends is primarily available as a browser-based game, accessible on various gaming websites and portals. It is designed for play on desktop and laptop computers through web browsers.
Playing Unblocked
To play Basketball Legends unblocked, you can follow these strategies:
Use Educational Networks: Educational institutions often have fewer restrictions on gaming websites. If you're on an educational network, you may have access to the game without restrictions.
Unblocked Gaming Sites: Explore gaming websites or portals that specialize in offering unblocked versions of games like Basketball Legends. These websites cater to users seeking to bypass restrictions in educational or workplace settings.
Browser Extensions: Some browser extensions or add-ons are designed to unblock websites. Consider installing one that can help you access the game.
Proxy Servers or VPN: Utilize proxy servers or Virtual Private Networks (VPNs) to bypass network restrictions and access the game from your location.
Availability on iOS and Android
As of my last knowledge update in September 2021, Basketball Legends was primarily a browser-based game and did not have official iOS or Android versions available. However, please note that game availability can change over time, and developers may release mobile versions or adaptations of games. To check the current availability of Basketball Legends on iOS and Android, I recommend visiting the respective app stores (Apple App Store for iOS and Google Play Store for Android) and conducting a search for the game. If it has been released as a mobile app since my last update, you should be able to find it there.
Conclusion
Basketball Legends offers an electrifying and immersive basketball gaming experience that allows players to step into the shoes of legendary basketball icons. With its intuitive controls, exciting gameplay modes, and unique special moves, it captures the essence of the sport and delivers thrilling matches on the virtual court.