Game Description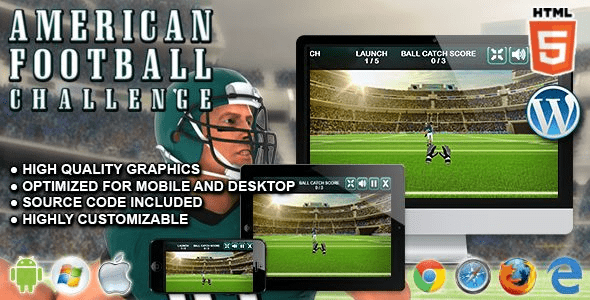 American Football Challenge puts you in the shoes of a field goal kicker, challenging you to make accurate kicks and score points. With its simple yet challenging gameplay, it's perfect for fans of American football looking for a quick and fun gaming experience.
Game Controls
Mastering the controls is crucial for nailing those field goals:
Mouse (Desktop) or Touchscreen (Mobile): Click and drag (on desktop) or swipe (on mobile) to aim your kick. Release to make the kick.
How to Play American Football Challenge?
Playing American Football Challenge is a straightforward process:
Game Start: Launch the game and select your preferred game mode, which may include options like "Time Trial" or "Challenge."
Kick Preparation: Position your kicker by clicking and dragging (on desktop) or swiping (on mobile) to aim. Aim for the center of the field goal posts.
Kick Execution: Release the mouse button (on desktop) or lift your finger (on mobile) to make the kick. Time your release carefully to ensure accuracy.
Score Points: Your goal is to score points by successfully making field goals from various distances and angles.
Challenge Rounds: In some modes, you may face challenging scenarios with moving goalposts or changing wind conditions.
Accuracy Matters: Your score is determined by your accuracy and the distance of the kicks. Aim for perfect kicks to maximize your score.
Tips and Tricks
To become a field goal kicking champion in American Football Challenge, consider these helpful tips:
Master Timing: Focus on your timing when releasing the kick button. A well-timed release results in accurate kicks.
Account for Wind: In challenge rounds with changing wind conditions, adjust your aim to compensate for wind direction and speed.
Practice Your Aim: Hone your aim to consistently hit the center of the goalposts.
Challenge Yourself: Progress through different game modes to take on new challenges and improve your skills.
Compete for High Scores: Strive to beat your own high scores and challenge friends to beat your best kicks.
Game Developer
American Football Challenge is developed by QkyGames, a game development studio known for creating fun and accessible sports-themed games for both casual and avid gamers.
Game Platforms
American Football Challenge is primarily available as a browser-based game, making it accessible on various gaming websites. It is designed for play on desktop and laptop computers through web browsers.
Playing Unblocked
To play American Football Challenge unblocked, you can employ the following strategies:
Use Educational Networks: Educational institutions often have fewer restrictions on gaming websites. If you're on an educational network, you may have access to the game without restrictions.
Unblocked Gaming Sites: Explore gaming websites or portals that offer unblocked versions of games like American Football Challenge. These websites cater to users seeking to bypass restrictions in educational or workplace settings.
VPN or Proxy: Utilize a Virtual Private Network (VPN) or proxy server to bypass network restrictions and access the game from your location.
Availability on iOS and Android
As of my last knowledge update in September 2021, American Football Challenge was primarily a browser-based game and did not have official mobile app versions on iOS or Android. However, the availability of games can change over time, so I recommend checking the respective app stores (Apple App Store for iOS and Google Play Store for Android) for any potential updates or releases. There may be similar field goal kicking games available on mobile platforms.
Conclusion
American Football Challenge provides a fun and challenging experience for players looking to test their field goal kicking skills. With its straightforward controls and engaging gameplay, it's a great choice for quick gaming sessions or friendly competitions to see who can make the most accurate kicks.
While primarily available as a browser-based game, there are strategies to play American Football Challenge unblocked, ensuring access regardless of network or location restrictions. So, grab your virtual football and aim for the perfect field goal in this entertaining football-themed game!