Game Description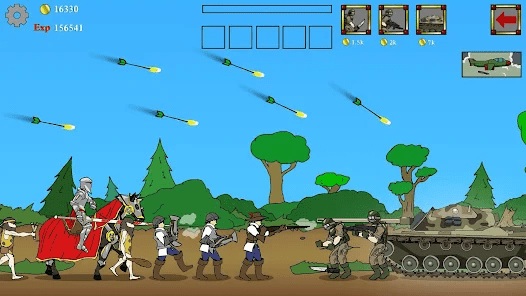 Age of War is an immersive strategy game that combines elements of defense, evolution, and conquest as you guide your civilization through different eras. This comprehensive article delves into the world of Age of War, covering game details, controls, gameplay instructions, strategies, the game developer, supported platforms, and how to access and play the game unblocked.
Age of War invites players to embark on a strategic journey that spans multiple ages of human history. Starting with primitive cavemen, you must evolve your civilization, develop technology, and defend your base against relentless enemy attacks. As you progress through time, you'll witness the evolution of your troops and battle formidable foes in epic encounters.
Game Controls
Age of War features intuitive controls that allow players to focus on their strategic decisions:
Mouse: Use the mouse to navigate menus, select units, and interact with the game world.
Hotkeys: Keyboard shortcuts are available for quick access to various in-game actions.
How to Play Age of War?
Playing Age of War involves the following steps:
Select Your Age: Begin by choosing an era to start your civilization's journey, from the Stone Age to the future.
Resource Management: Collect resources, such as gold and experience points, to unlock and upgrade units and turrets.
Defend Your Base: Deploy units and defensive structures to protect your base from waves of enemy attacks.
Evolution: As you earn experience points, advance through ages, unlocking new units, technologies, and special abilities.
Conquer Enemies: Build an army and launch attacks on enemy bases to gain the upper hand.
Upgrade and Adapt: Continuously upgrade your units and base defenses to stay competitive as the eras progress.
Achievements: Complete in-game achievements to earn rewards and enhance your capabilities.
Tips and Tricks
Mastering Age of War requires strategic thinking and resource management. Here are some tips to help you thrive:
Balance Resources: Allocate resources wisely between unit upgrades and base defenses.
Variety of Units: Use a mix of unit types to counter different enemy strategies.
Special Abilities: Make effective use of special abilities and airstrikes during battles.
Upgrade Priority: Prioritize unit and turret upgrades to increase their effectiveness.
Adapt to Enemies: Pay attention to enemy unit types and adjust your strategy accordingly.
Earn Achievements: Complete achievements to unlock bonuses and strengthen your civilization.
Game Developer
Age of War is developed by Max Games, a renowned game development studio known for creating engaging and addictive browser games. Max Games has a history of producing entertaining and challenging titles for a global audience.
Game Platforms
As of my last knowledge update in September 2021, Age of War is primarily a browser-based game and was not officially available as a standalone app on iOS or Android platforms. It is typically played on desktop and laptop computers via web browsers. However, please note that the availability of games on different platforms can change over time, so it's possible that there have been developments or adaptations since then.
To check the current availability of Age of War on iOS and Android, I recommend visiting the respective app stores (Apple App Store for iOS and Google Play Store for Android) and conducting a search for the game. If the game has been released as a mobile app since my last update, you should be able to find it there.
Playing Unblocked
To play Age of War unblocked, you can follow these strategies:
Use Educational Networks: Age of War is often unblocked on educational networks and institutions. If you have access to such a network, you can enjoy the game without restrictions.
Unblocked Gaming Sites: Explore gaming websites or portals that offer unblocked versions of Age of War. These websites cater to users looking to bypass restrictions in educational or workplace settings.
Proxy Servers: Utilize proxy servers or VPNs to access the game by masking your IP address and location.
Local Downloads: In some cases, you may find downloadable versions of Age of War that you can run locally on your computer, bypassing network restrictions.
Conclusion
Age of War offers a captivating blend of strategy, evolution, and defense, taking players on a thrilling journey through the ages of human civilization. With its accessible controls and engaging gameplay, it provides hours of strategic enjoyment. Whether you're a fan of history or simply seeking an immersive gaming experience, Age of War invites you to lead your civilization to victory through the annals of time. While primarily available as a browser-based game, you can employ various strategies to play Age of War unblocked and experience the thrill of strategic warfare and evolution.